Chaplaincy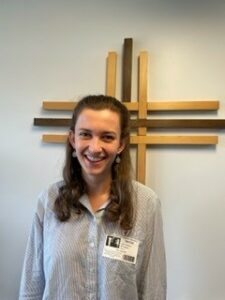 My name is Lucy.  I recently moved to Nottingham after living in Scotland for the past few years working for a Catholic charity but I grew up in South London.  I left home to study English and Music at Leeds University and love to sing so if you have any favourite hymns let me know.
As the Trust's new Chaplain I am looking forward to meeting all the children and grow in our faith together.
My contact email is: lfarrelly@christtheking.notts.sch.uk
Our Chaplaincy Team
Our Chaplaincy Team work with Lucy and Charles to plan whole school collective worships as well s other events.
Below are some of the photos that show some of the events that they have taken part in.
After the whole school mass, the Crowning of Mary led by Year 1, some of the Chaplaincy went to Harrier House to deliver the flowers that were used and donated by parents for mass to the residents. They were thrilled to know our children and their families are thinking of them.